"Lomax the Songhunter" on P.O.V.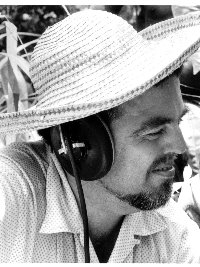 For those of us with an interest in regional music history there is a special treat coming up on PBS later this month. On Tuesday, August 22 (in our area, check your local listing for local showing time) the PBS program P.O.V. (Point of View) will be airing "Lomax the Songhunter", a documentary about Alan Lomax, the folk music collector by film-maker Rogier Kappers. Alan Lomax was a contemporary of other well known collectors and folklorists as Harry Smith, Vance Randolph and his wife Mary Celestia Parler, John Gould Fletcher, and Otto Ernest Rayburn. You've probably seen this logo on more than one collection of Lomax's field recordings. Here's an excerpt from the description of the film on the P.O.V. website.
Alan Lomax was "the song hunter." He devoted his life to recording the world's folk tunes before they would permanently disappear with the rise of the modern music industry. In "Lomax the Songhunter," filmmaker Rogier Kappers seeks to tell Lomax's story by interviewing friends such as Pete Seeger, combining it with archival recordings of music greats Woody Guthrie and Leadbelly, and gathering footage of the cotton fields, rock quarries and prisons where Alan Lomax captured America's quintessential music. Finally, Kappers followed the route that Lomax took so many years ago and traveled around Europe in an old Volkswagen to remote villages in Spain and Italy, hearing memories and music from the farmers, shepherds and weavers whose songs Lomax recorded decades earlier.